.

NOW AVAILABLE ... 3D PLANT MODEL LIBRARY CD - VOLUME 1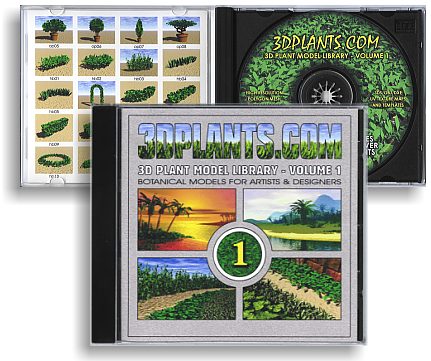 .
· TROPICAL PLANTS & TREES · GRASSES & GROUNDCOVER ·
· HEDGES & BORDER PLANTS · ORNAMENTAL PLANTS ·
.
.
.
Creating realistic 3D plants, trees, and vegetation from scratch can be difficult and time consuming, even with high-end 3D modeling software. Most commercial programs come with a very limited variety of botanical models in their libraries (mostly trees, for some reason). Some of them look more like polygons on a stick. Even if you have specialized software for generating botanical models, it often takes a lot of experimentation and fine tuning to achieve exactly what you're looking for. This site is intended to provide an archive of free, original, realistic, customizable botanical models in DXF & 3DS formats, for artists, animators, architects, designers, and other 3D enthusiasts. All of the models in the download section are free for commercial or non-commercial use*. In addition, tutorials are provided to demonstrate techniques for optimizing and modifying imported 3D models in various programs. The Image Gallery contains examples of ray-traced 2D artwork and other graphic art images submitted by users of this site. The links section has links to a variety of 3D resources including sites, software, newsgroups, and 3D community message boards. A CD is now also available for purchase online which contains 60 all new original models plus UV textures and "Poser-style" templates. Click here for details.
New models will be added to the free download section on a regular basis - all original content - no "recycled" internet downloads. Be sure to bookmark this page and check back often!
Custom Models - Can't find what you're looking for on these pages... or anywhere else? Click here to find out more about our custom design services.
If you have any questions or comments, please send them to plants3d@aol.com.
*Sale or unauthorized commercial distribution of the free models in our download section is prohibited. This includes conversion to other file formats or use of the associated object geometries or image files. © 2000 3DPlants.com.
.
.
..
.
.
.
.
Last update 12/30/00
Introduction / Products /Free Downloads / Tutorials / Image Gallery / Custom Models / Contact / Links

© 2000 3DPLANTS.COM